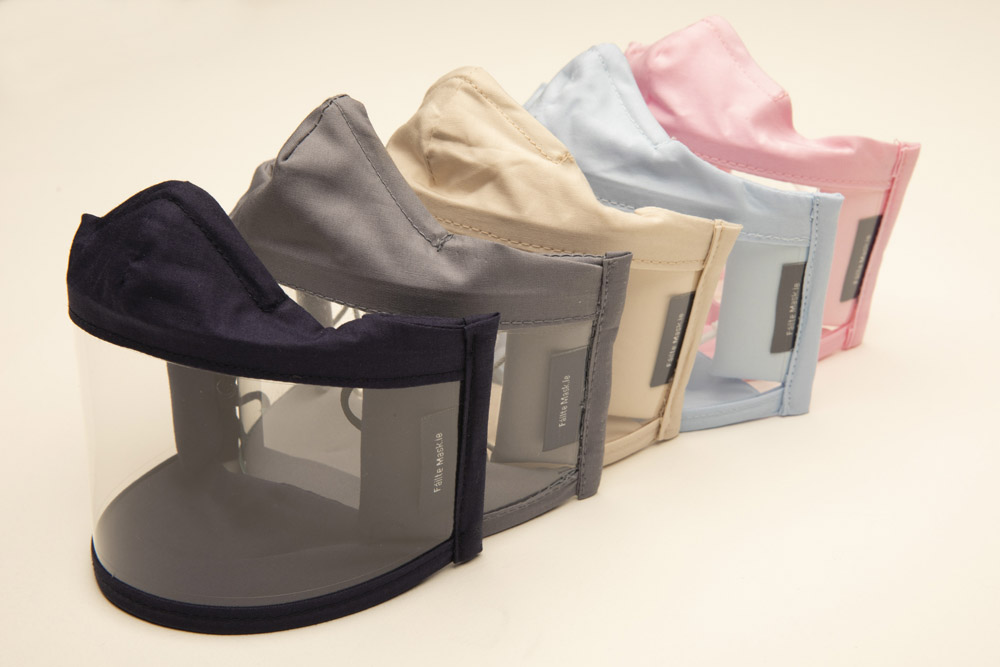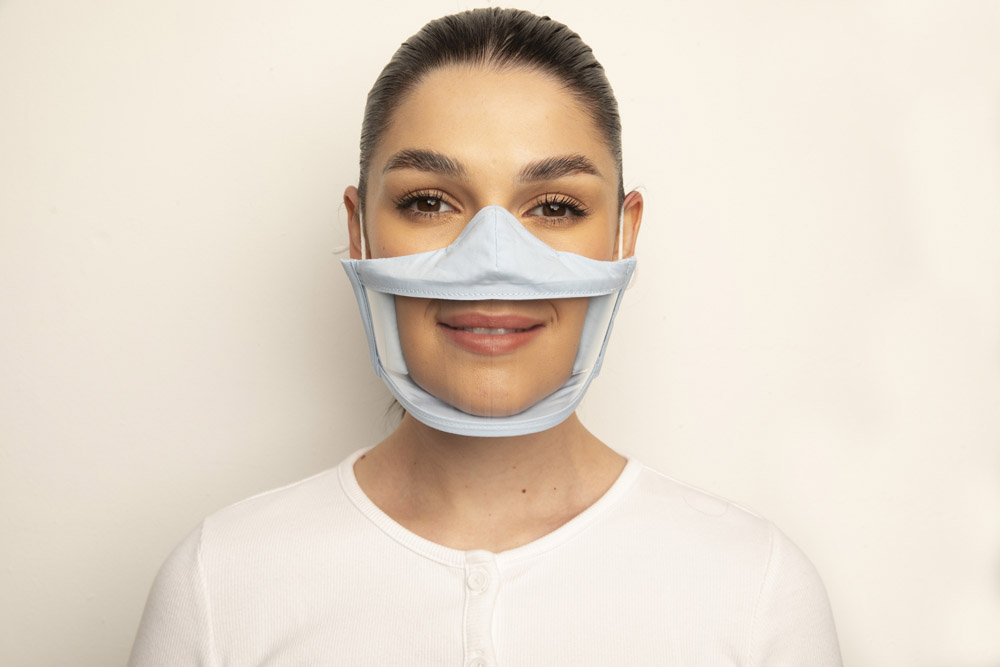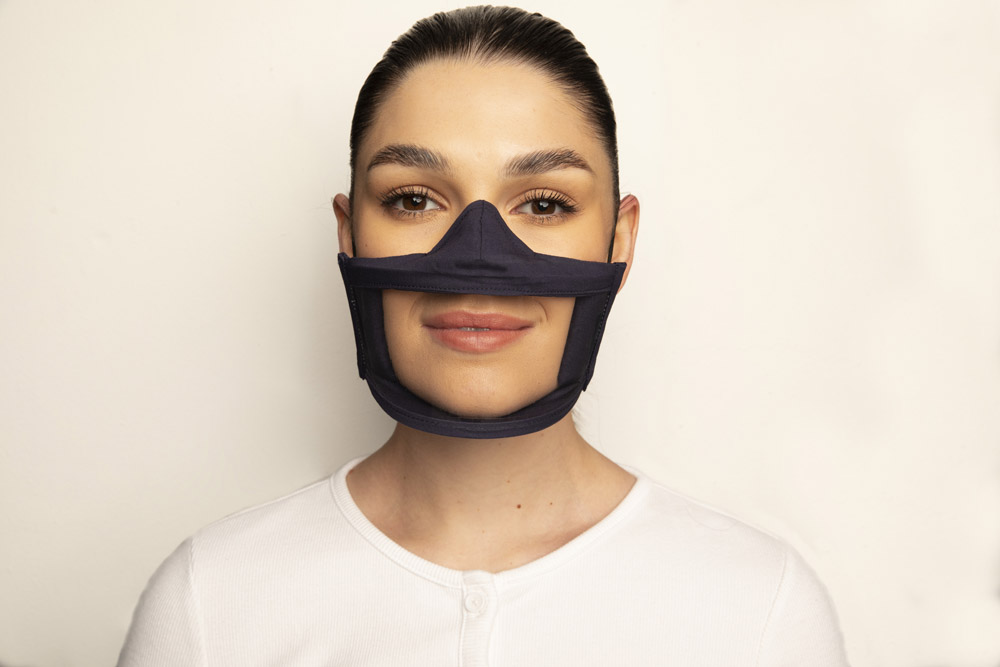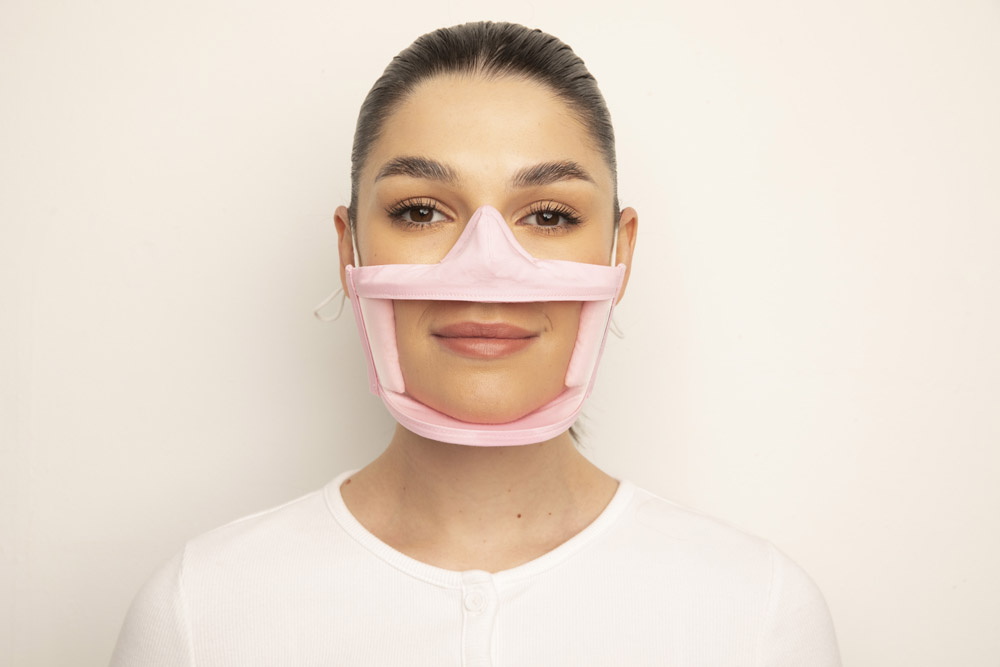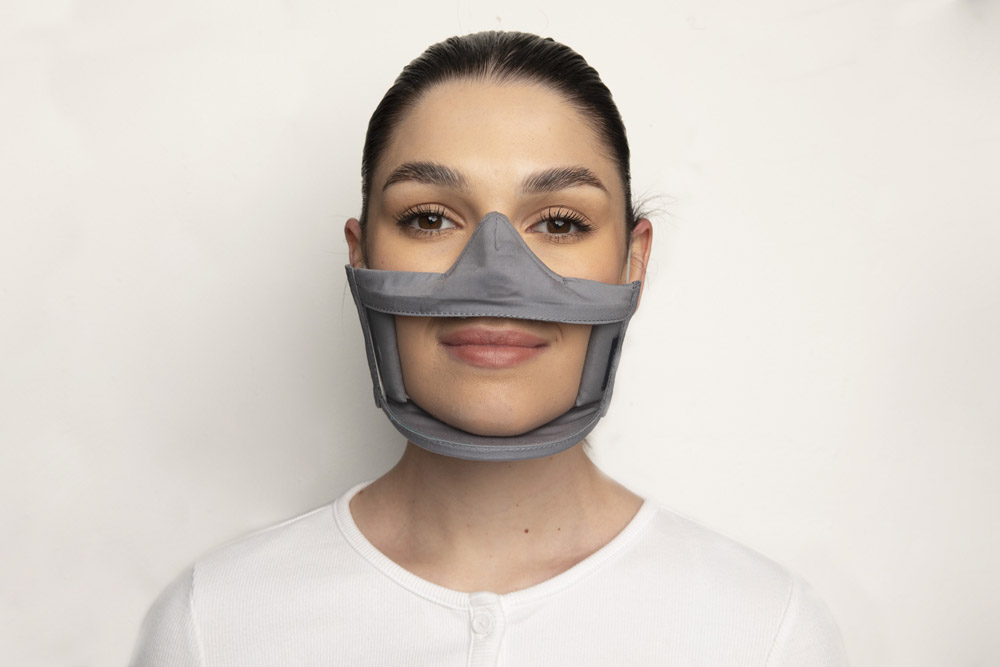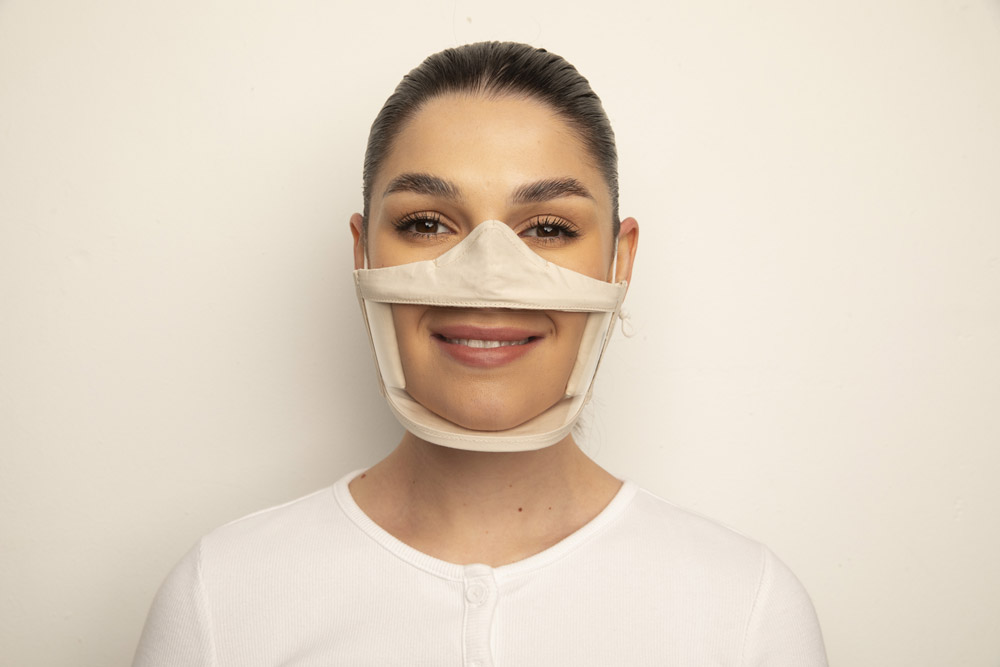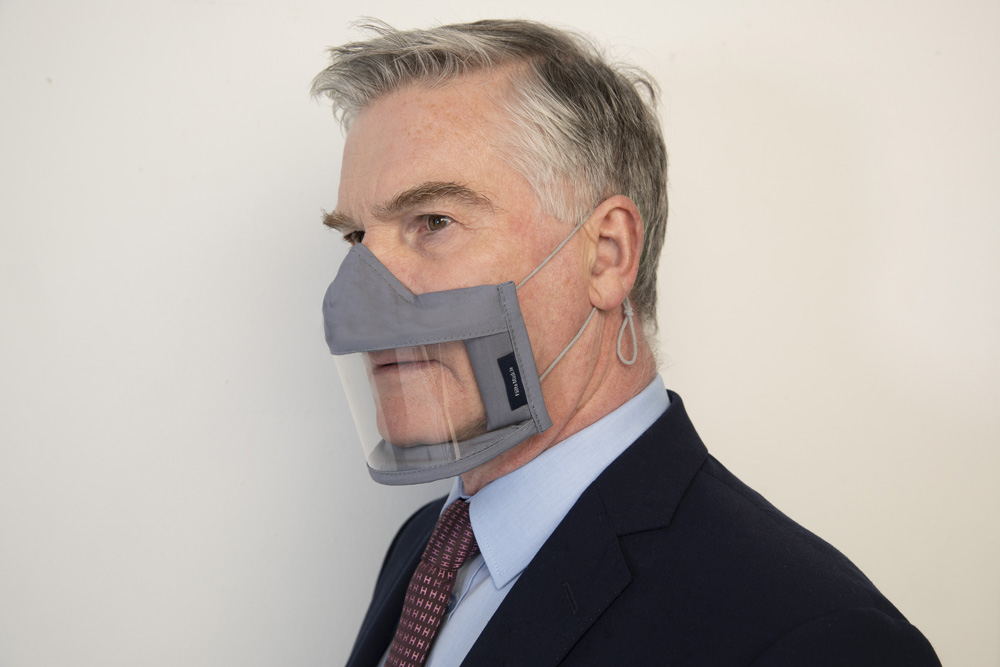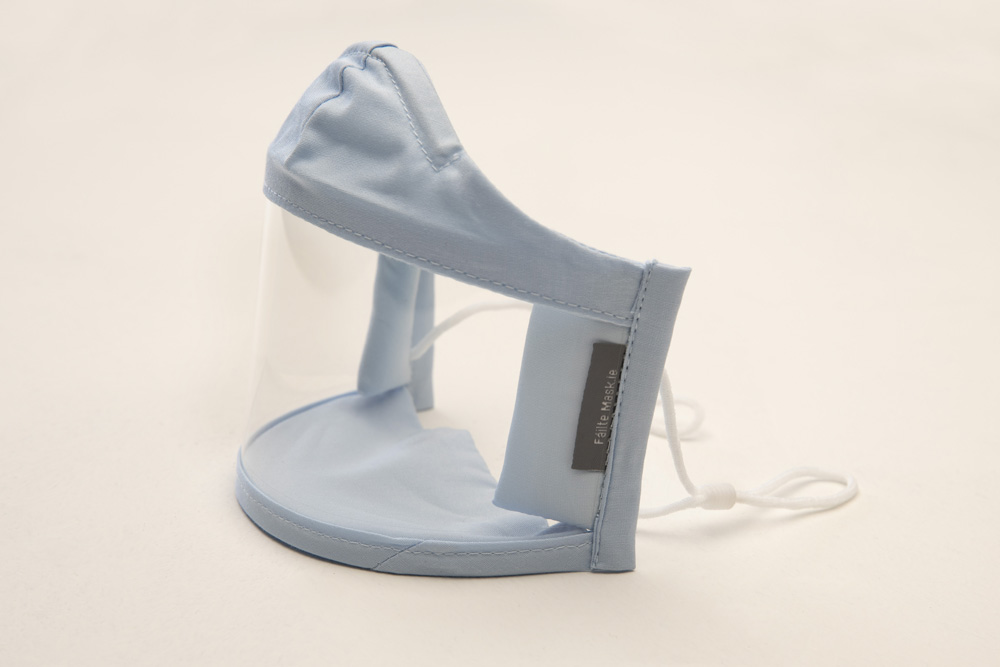 Previous
Next
The Clear Fáilte Mask is a reusable UNISEX barrier mask.

It is an innovative Irish designed way to help with communication across many different situations.
We are receiving lots of orders for the Clear Fáilte Mask. It is great to know we have such interest and excitement about our innovative clear mask, designed in Dublin.
FEATURES
of the Clear Fáilte Mask
Made of two layers of 100% Organic Cotton
Anti-fog and Anti-Scratch Clear Panel
Nose wrap to help stop glasses fogging up and added protection
Reusable, ethical & sustainable
Cushioned sides for added comfort and fit
Adjustable Ear elastic
Designed with as much natural materials as possible and our technical team are committed to constant improvement in this area.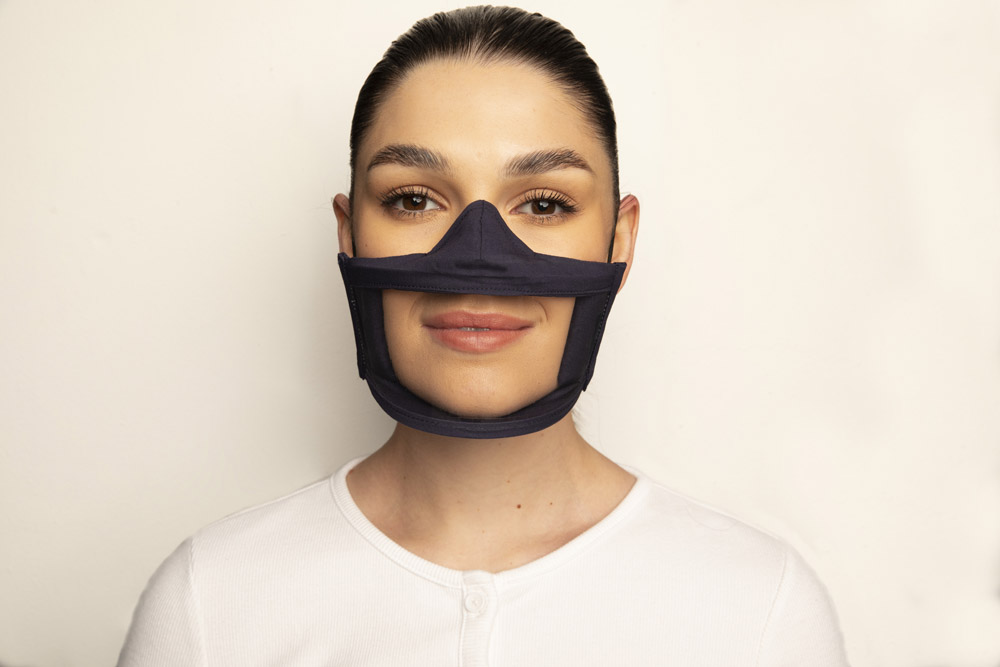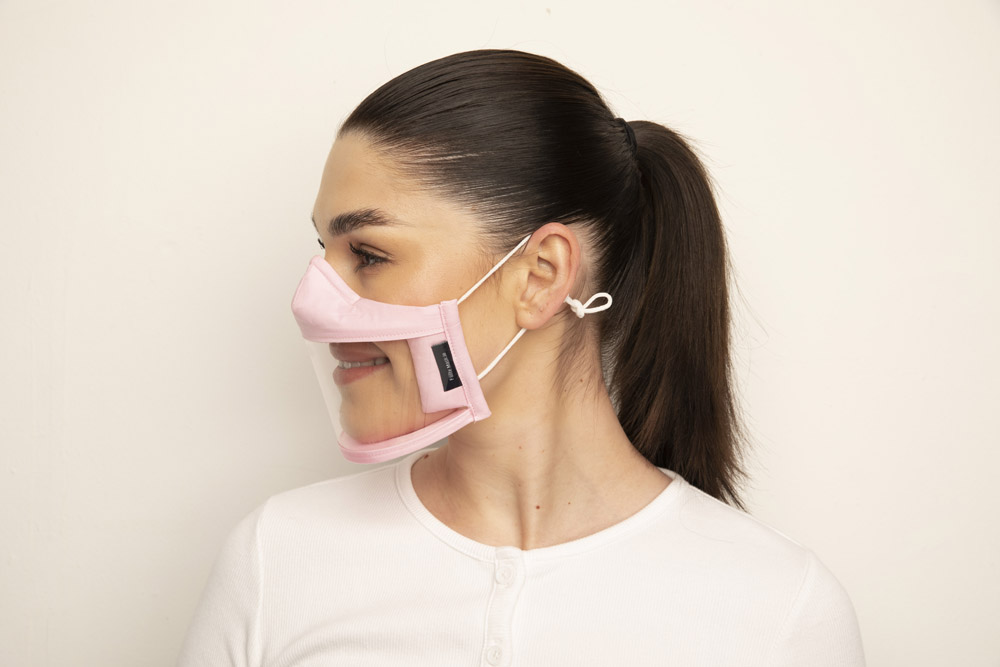 The Failte Mask is not a replacement for surgical grade masks. It is an easy to wear, very comfortable Irish designed Mask or Face Covering.
It is so important that we protect one another and the guidelines from the health authorities outline this very clearly.We are all expected to wear face masks on public transport, in shops and in places where social distancing is difficult.The owners and designers of the Clear Fáilte Mask consulted with DVProfessionalUniforms.ie who have been in the bespoke textile industry for over 25 years.
EU Registered Design No. 008213797-0001 & No. 008213797-0002
UK Registered Design No. 90082137970001 & No. 90082137970002
DELIVERY
P&P charges per order
€3.80 for Republic of Ireland & Northern Ireland
€6.00 for Europe & UK
€7.00 Rest of World
click for more info
The Clear Fáilte Mask is ideal for use in travel, wellness and public situations.
The Clear Fáilte Mask provides for an easy to wear and practical experience, enabling you to comfortably breathe through 100% organic cotton for extended periods of time.
Note: Our products are not suitable for use as either a PPE medical or industrial devices.
View our product information & disclaimer by clicking here.
FOLLOW US ON
SHARE THIS ON

Share on facebook


Share on twitter


Share on linkedin

TESTIMONIALS
Ordered January 27th and arrived Feb 1st. very good service. Mask is comfortable and doesn't fog up.
Claire Murphy
Received my mask.  I'm delighted with it.  I've passed on your name to everyone who admired it, and wanted to know where I got it. Expect to get busier!!
Kit Massey
Face masks arrived this afternoon and I am delighted with them. The design is a lot better than the ones we had tried initially from China.
Niamh Fitzgibbon – Abú Montessori
I have ordered from you before and we were very happy with the quality of the masks.
Wayne Hamilton
Just wanted to say Thank You for my masks.
The service was superb and communication was great also. I have since ordered three more.
Wishing you the best of luck. They really are perfect. I wanted them because my Dad is hard of hearing and I wanted to see him safely this Christmas
Caroline

5/5
"Just wanted to say Thank You for my masks.
The service was superb and communication was great also. I have since ordered three more.
Wishing you the best of luck. They really are perfect. I wanted them because my Dad is hard
of hearing and I wanted to see him safely this Christmas."
Caroline Davis
 5/5
"I have ordered from you before and we were very happy with the quality of the masks."
Wayne Hamilton
 5/5
"Face masks arrived this afternoon and I am delighted with them. The design is a lot better
than the ones we had tried initially from China."
Niamh Fitzgibbon – Abú Montessori
 5/5
"Received my mask.  I'm delighted with it.  I've passed on your name to everyone who admired it, and wanted to know where I got it. Expect to get busier!!"
Kit Massey
 5/5
"Ordered January 27th and arrived Feb 1st. very good service . mask is comfortable and doesn't fog up."
Claire Murphy